Language Learning Apps: Our Top 5 in 2019
We always want to encourage our clients and readers to continue their education learning new languages.
We have written articles on the benefits of language acquisition — it keeps your brain young and nimble, while facilitating enhanced communication — so we want to share some apps that can make learning a language fun and easy!
1. Memrise
Memrise is a language learning app that was founded in 2010. The app uses an online platform and a flashcard system to teach users in a fun and engaging way, while connecting them with a vast online learning community
Memrise is special in that its content is user-generated, meaning it is constantly growing, similar to Wikipedia. Based out of London, English, Memrise doesn't only allow users to learn language, although language learning was its original intent.
The app is based in the science of how the human mind learns. Using mems, the flash-card like boards that are hosted on the platform, the tool helps your brain to form "vivid, sensory memories". Then, with continuous testing, the learning is reinforced. This language learning app is also really user-friendly and fun. The content is set up so you are building a "garden", as you plant "seeds" of knowledge. Reviewing the materials is the equivalent to watering your garden, and helping it to grow. Finally, the app does offer an online community for users to interact and learn from each other, as well!
2. LinguaLift
LinguaLift is an interesting language learning tool because it is very specific: this site is geared at those who want to learn Japanese, Russian, or Hebrew. The product of six years of research from Harvard, Stanford, and Oxford universities, who found that language learners tend to lose momentum when they lose their clarity. Therefore, the program, which does have a fee of about 50 USD$ per month, aims to provide clarity of organization, explanation and example. Lessons are structured so users know what is coming next, and provide clear learning objectives. This platform is run by educational technology startup Edulift, and they are growing quickly. Watch out for LinguaLift to be offering more language options in the future.
3. Duolingo
We've written about Duolingo in the past, and we still recommend it as an interactive language learning tool. The Duolingo team is always innovating and growing, and as of October of last year the platform (which includes a website and an app) offered courses on 81 different languages in 37 languages. There are about 300 million users worldwide, meaning using Duolingo has you connected with an incredibly rich and diverse community. Duolingo mimics the structure of video games, giving users an online currency that can buy additional features and add secret levels. Duolingo is also available for use in schools, and even has volunteers organize Duolingo meetups, providing free materials, so people can meet and practice speaking together.
4. Mindsnacks
Mindsnacks has developed a number of apps that teach languages through video games. More a game than a language learning tool, these apps are a fun way to supplement a more serious program or class through fun and practice. Currently there are mindsnacks available for learners of Spanish, French, Italian, Portuguese, German, Chinese and Japanese. There are even mindsnacks for children's vocabulary in English, and SAT vocabulary for those studying for the Scholastic Aptitude Test (SAT). Programmers have already announced a math mindsnack, too. The games track students' progress, and adjust as levels improve.
5. Babbel
Babbel, like Duolingo, is an extremely popular language learning tool. Subscription-based, the app and e-learning platform have been around since 2008. Language learners can study Dutch, Danish, English, French, German, Indonesian, Italian, Norwegian, Polish, Portuguese, Russian, Swedish, Spanish and Turkish. Babbel is a European company, based in Berlin, Germany, with a team of over 100 linguists and developers working in house. Juliet Wilson of Cambridge English said of Babbel"…until now it's been difficult for [online learners] to know whether they are really learning the right skills, or to demonstrate their real level. She then said that the Babbel English Test would "give learners reliable evidence of their progress and a certificate of achievement that demonstrates what they have learned."
Give yourself the challenge of learning a new language in this new year! You will get to experience a whole new world of film, books, music, culture, and people, and probably make some new friends in the process. We hope our suggestions for language learning tools will help to facilitate your language learning journey!
You may also find this interesting:
Localization as a Sales Booster
How Facebook's artificial intelligence facilitate language translation
How artificial intelligence facilitate communication
How many words are included in your website?
If you are looking for a website word count estimation we can help!
Please fill up the form and send us your main URl and the other details.
We will generate a free report and we'll provide you the number of words in the body of your website, the words for title, meta tags and alt text.
You will receive your report as soon as we have it ready.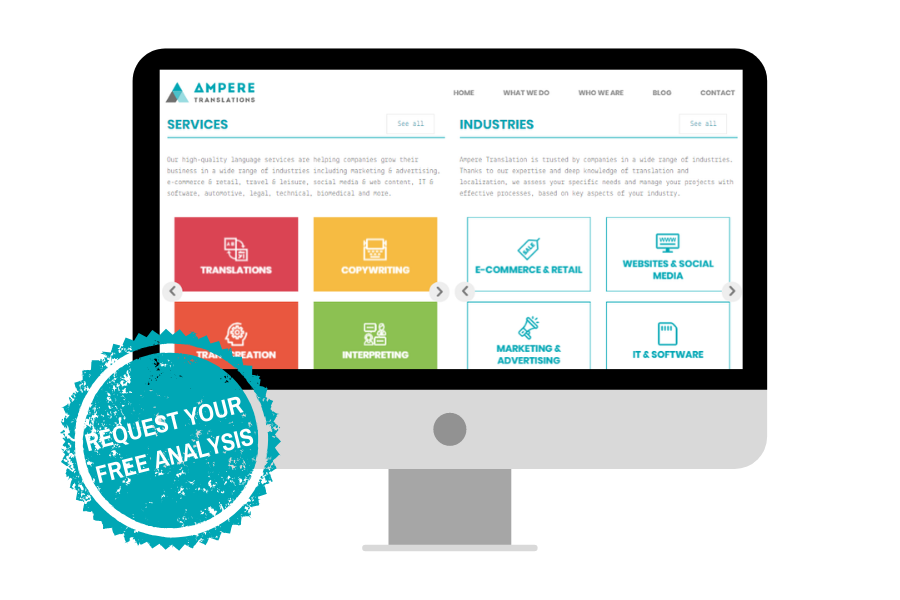 Request your free analysis