German speaking countries around the world
If you are considering expanding your market to Germany, Austria, Switzerland, Belgium, Liechtenstein or Luxembourg, you may be wondering what next steps you should take.
Each of these countries may have different expectations and habits when it comes to products and shopping preferences, but all six countries have one thing in common: they all speak German!
In this article, we'll explore the main German speaking countries and share some interesting facts about their language and culture, so that you can enter these markets with confidence.
What are the countries that speak German?
German is an official language in Austria, Belgium, Germany, Liechtenstein, Luxembourg, and Switzerland, and millions of people worldwide speak it as a second language, in countries as far apart as Denmark and Argentina.
But as it happens with most languages, the German spoken in Germany is not exactly the same as the German spoken in Switzerland, for example. Keep reading to learn more about the German language and the countries where it's spoken.
Germany
German (or "Deutsch") is the official language of Germany, where it is spoken by around 80 million people. They love using modal verbs such as können (can) or müssen (must), and have some 16 ways to say "the".
Germans love online shopping and it is one of the largest e-commerce markets in Europe. It's no surprise then that many Amazon sellers prioritise the German marketplace when expanding their offering on their online stores.
Austria
German or Austrian German is the only official language of Austria and 98% of the population speak it. Although there are small differences in vocabulary compared to German spoken in Germany, they are mutually understandable. Like their German neighbours, Austrians also enjoy online shopping, in particular when it comes to clothing, electronics, DIY, furniture and appliances.
Websites and online stores are expected to be in German, and that's why the leading online clothing marketplace Zalando has a dedicated site for Austria.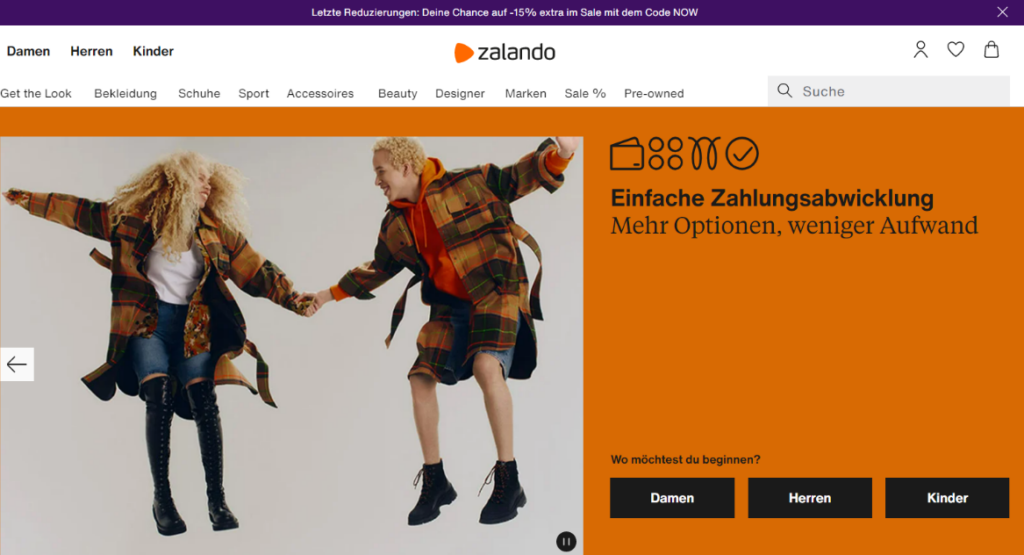 Image source: www.zalando.at
Switzerland
Switzerland has four official languages: German, French, Italian and Romansh. The most widely spoken language is German or Swiss German, which includes some variations of standard German. The languages spoken in each region of Switzerland correspond with the nearest bordering countries: Swiss French is spoken in the west, and Swiss Italian in the territory close to Italy.
Germany, Austria and Switzerland represent the heartland of German-speaking Europe, although the language is spoken in other countries within Europe.
Liechtenstein
Located between Switzerland and Austria, in the center of the Alps, Liechtenstein is the fourth-smallest state in Europe and the sixth-smallest country in the world. German is the national language of Liechtenstein, together with some Germanic languages and dialects such as Swiss German and Alemannic.
Even though it's a tiny country, many foreign manufacturing companies are based in Liechtenstein and benefit from its location in the heart of Europe, with easy access to all the European markets.
Luxembourg
The primary language of Luxembourg is Luxembourgish (or Lëtzebuergesch, as they write it). German and French are also official languages. Even though only a small proportion of people speak German as their first language, around 70% of the population speak German as their second language.
Nestled between Belgium and Germany, and with Luxembourg City as one of the EU's three official parliamentary capitals, alongside Strasbourg and Brussels, the strategic location of this country makes it an attractive option for businesses looking to expand into the European market.
Belgium
Belgium has three official languages: Dutch, French, and German. Dutch is the first language of 55% of the population while French is the primary language for 39% of the population. Less than 1% of Belgium's population use German as their primary language, but around 22% of the country's total population speak German as their second language.
With a small population of approximately 11.58 million and the need for tailored offerings according to local culture and in the two main languages (French and Dutch), Belgium can be a difficult market to enter.
Are there any other countries in the world that speak German?
German is spoken in many other countries around the world that acknowledge different legal statuses for the German language or its dialects. These countries include:
Brazil
Czech Republic
Denmark
Hungary
Italy
Kazakhstan
Namibia
Poland
Romania
Russia
Slovakia
5 Facts about the German language and shopping habits that you need to know when doing business
As a business in a global marketplace, it makes sense that you would want to enter the German speaking market; German is a fascinating language and as we've discovered, it's widely spoken worldwide.
We'd love to share 5 tips about the German language and shopping habits, that are sure to help you as you expand into these territories.
1. Make sure your website has an Impressum: if you have a commercial website published in German-speaking countries (Germany, Austria, and Switzerland), you will need to place an Impressum on your website. An Impressum is a statement of ownership and authorship by which owners identify themselves. This holds them responsible for their content and therefore helps combat spam and disinformation.
2. Language really matters: German consumers are risk-averse and expect to have access to websites and online stores in German. When translating your materials into German, make sure you use language experts who understand the difference between formal and informal speech, for example, and know how to address your consumers in the best and most appropriate way.
3. Payment methods: Bank transfer, PayPal, invoice, credit card or direct debit are some of the most popular payment methods in Germany, Austria and Switzerland. Before entering a new market, make sure you are aware of the preferred payment methods in each country.
4. Top customer service: German and Austrian online shoppers are known for returning some of the products they order. Offer an excellent customer service to answer questions and facilitate easy returns in order to ensure customer loyalty.
5. Sustainability matters: German consumers expect the companies they purchase products from to use sustainable practices. Do your bit to make the world more sustainable and you'll naturally attract new customers who share this vision!
Enter the German market with confidence
We can support you in identifying new markets and developing and implementing an effective multilingual strategy in all the German speaking countries.
Entering a new market can feel daunting, but with the help of Ampere Translations it doesn't have to be. Email us today to discuss your needs.