5 reasons travel and tourism brands should translate their website
The way people plan, book and manage their trips and days out has changed dramatically. More and more people book holidays, trips and tours online instead of going through travel agents or queuing at the door of a museum. 
In 2022, online sales represented 66% of the global travel and tourism market, which means that your online presence is key to the success of your travel or tourism business. It also means that having a multilingual website can attract travellers and visitors from every corner of the world, with the potential to increase booking from overseas customers. 
In this article, we will discuss why travel and tourism brands should translate their website and we will look at the considerations you need to take into account in your translation.  
Here are 5 reasons why you should translate your travel or tourism website
1. Increase your online visibility 
Online travel market worldwide hit the $433 billion mark in 2021, and it's expected to reach $690 billion by 2026. How can you get more eyeballs on your website? By translating and optimizing your site. 
A multilingual website can appear in local search engines when your potential customers are searching for their next day out or adventure in their own language. Your traffic won't be limited to English-speaking Internet users, and you will be able to reach your international customers.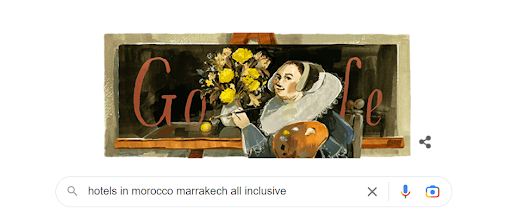 2. Welcome more international travellers
Translating your website and reaching a wider global audience means that more people will know that you exist, and so you have more chances of international visitors staying at your hotel or visiting your restaurant. 
International visitors can have a positive impact on your bottom line, in particular when it is low season for your domestic customers but travellers from other countries are looking for a break abroad. 
3. Offer a better user experience 
Speaking to your customers in their native language will provide them with a more natural and comfortable experience when they are visiting your site. Website visitors have a better experience when they can understand what they read. 
4. Get more bookings
With 85% of shoppers abandoning their cart or booking, it is very likely that many travellers use online travel websites to find and compare options without completing the purchase. And while the price may be the most important factor to complete a sale, 76% of online shoppers prefer to buy products with information in their native language.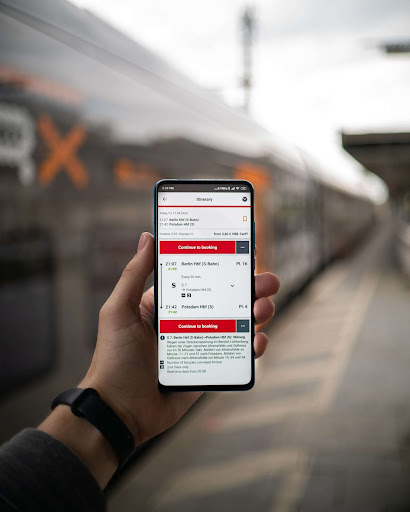 5. Adapt your offer for each country 
Ensuring the customers of your key markets get a tailored experience is vital in driving more sales. This may involve adapting your offer or highlighting different destinations on your Home Page according to people's preferences in each country. 
Key considerations when translating your travel or tourism website
Use emotive language in your translations
Travellers feel all sorts of emotions ahead of a trip: excitement, peacefulness or happiness to name a few. These emotions guide their decision-making and when they are positive, travellers are more likely to book a room or visit a destination. 
By using emotive language, you will appeal to your customers and persuade them to book with you. When translating sentiment and emotion into another language, you will need a translator with a good grasp of marketing who can prompt the desired response in your audience (sometimes by providing transcreation services).
In the example below, Eurostars Hotel uses the catchy phrase "La vida son dos puentes. ¡Vívelos!" (Life is two bridges. Live them!) to encourage their Spanish audience to book a trip for the next Bank Holiday weekend.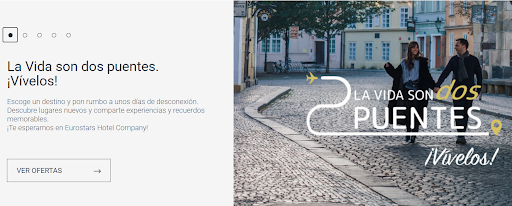 Localize 
Localization involves going beyond translation and considering the cultural norms and preferences of your international guests, not just their language. It may mean adapting your tone of voice, converting units of measurement on your food or drink menu or offering different payment methods. Learn more about the key elements of website localization here. 
Plan ahead what you need to translate
The website content that you need to translate may be more than you first think. Make sure you include
Main pages of your website 

Relevant blog posts

Special offers 

Room/product descriptions

Restaurant menu

Additional services, such as spa treatments 

Terms and conditions

Legal disclaimers 
In addition to your website, you may want to consider the translation of others materials usually translated in the tourism sector such as brochures or audio guides.   
Ampere Translations has extensive experience providing language services to help travel and tourism brands communicate with their international audience. Get in touch today to discuss your needs.