Language proficiency in the European Union
We write frequently about the importance of maintaining indigenous or ancient languages, as well as maintaining language diversity, but today we want to tackle a new subject: foreign language proficiency in Europe. The European Union invests a lot of time and resources into educating its citizens through programs like Erasmus, etc. and the aim is certainly more than just ensuring most are fluent in English. European Union citizens can also elect to study other languages, and many of them do. But which countries are the most fluent in the most languages? And why is that so? We decided to investigate to get an idea of the countries with the best language ability.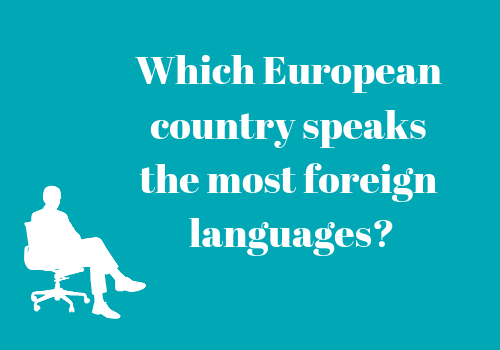 Which European country speaks the most foreign languages?
The European Union publishes Open Data for each of its member states reporting how many different languages are taught and learned per student in secondary education.
The European Union defines a foreign language as,
"[a language] recognized as such in the curriculum or other official document relating to education in the country. Irish, Luxembourgish and regional languages are excluded, although provision may be made for them in certain Member States. Allowing for exceptions, when one of the national languages is taught in schools where it is not the teaching language, it is not considered as a foreign language."
Luxembourg is the country that teaches the most foreign languages, with over 2 as an average per pupil in secondary school.
Following closely with a rate of 1.6 – 2 are Belgium, Bulgaria, Cyprus, the Czech Republic, Estonia, France, Latvia, Malta, Poland, Romania, Slovenia, Slovakia and Sweden.
With an average EU "score" of 1.1 to 1.5 additional languages per student are Austria, Croatia, Hungary, Iceland, Italy, Lithuania and the Netherlands.
The stragglers of the Union include Denmark, Germany, Greece, Ireland, Norway and Portugal. Data is missing for Spain and the United Kingdom.
While data is lacking regarding the country with the best language skills, the European Union does collect information that tells us in 2016, 35.3% of all working-age adults in the EU reporting no knowledge of any foreign languages. 35.2% reported knowledge of at least one foreign language, while over one fifth (21%) knew two foreign languages. 8.4% knew more than two foreign languages.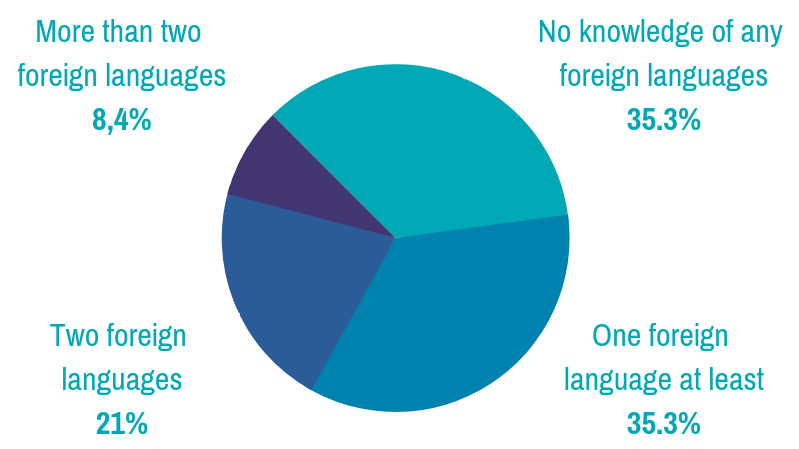 Source: Eurostat (online data code: edat_aes_l21)
In general, there appears to be a clear generation gap, with younger EU citizens speaking foreign languages. 73.4% of the EU-28's population aged 25-34 knew at least one foreign language, with the percentage diminishing the older the subjects got. This difference is particularly marked in Greece, with 86.6% of those aged 25-34 speaking more than one language, but just 40.4% of those aged 55-64 speaking more than one language. There are also considerable age gaps in Croatia, Hungary, Portugal and Romania. Oddly enough, in Lithuania, the gap was reversed, with the percentage of those who speak more than one language higher in the group aged 55-64.
Population aged 25-64 reporting they knew one or more foreign languages

Ireland: not available yet. Turkey: not available.
Source: Eurostat (online data code: edat_aes_l21)

Language ability is critical for employment in the European Union, with 68% of the EU-28's adult, working age employed population fluent in at least one foreign language, while those outside the workforce had just a 54% chance of speaking another language. These figures support the theory that in some sectors employers are more interested in hiring those with an additional language, and may even be willing to pay for additional language training. Managers, professionals, technicians and associate professionals are more likely to know more than one language – 79.4% to be exact.
European Union's Adult Education Survey
The above data is taken from the European Union's Adult Education Survey (AES), which provides information on self-reported foreign language skills. This differs from data taken from foreign language examinations, and is meant to be more inclusive, as not all those who speak a foreign language have traditional training with test data. The survey was held in 2007, 2011 and 2016, and currently is upheld with EU Commission Regulation No 823/2010 and EU Commission Regulation No 1175/2014. The regulations are a part of the strategic framework for European cooperation in education and training (ET 2020) which provides a common set of objectives for EU member states, and seeks to enable all EU citizens to be able to communicate in at least two languages in addition to their mother tongue, promote vocational language training for adult learners, and give migrants an opportunity to learn the language spoken in their host country.
We enjoy staying up to date on the status of language in the European Union. The EU is one of the few blocks on countries in the world where linguistic diversity is so prevalent, and the European Commission is working hard to ensure the maintenance of traditional languages while still promoting additional language acquisition for its citizens. A part of the value of our services is that we can ensure your products and/or services are labeled and marketed in the desired language of your target audience. Although we all know English is the common language for business, the EU's efforts to maintain linguistic diversity ensure that local languages are promoted as well, and that includes when it comes to marketing and packaging in various member states. Do you want to operate in another EU member state? Let us help you communicate effectively with non-native target markets!