4 great multilingual website examples
You are an international business looking to enter or expand into a new country. You understand the value that a multilingual website is going to bring to you: greater visibility on local search engines, a better experience for your international customers, a more familiar feel and better conversion rates. 
You also know that it is a good idea to take inspiration from successful multilingual websites, so you can take into account and implement the key aspects of translation and localization on your own website. In this blog post, we'll show you 4 excellent examples of multilingual websites that communicate effectively with their audience. Let's dive in.  
McDonaldʹs
McDonald's has more than 38,000 restaurants in over 100 countries around the world, and when two people from two different countries visit their website, they can see very different things. This is because McDonald's doesn't just translate their website copy for each country but localizes content, images or layout to make the experience as meaningful as possible for each individual. 
For example, when we visited the Italian version of the website at the time we were writing this blog post, the Home Page featured a Christmas promotion offering a deal from the 1st to the 25th of December. This marketing campaign may well be inspired by the Italian Christmas tradition of the Advent Calendar, which resonates with the local audience.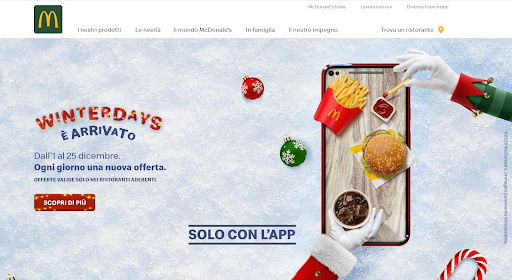 Meanwhile, Spain's website highlighted the FIFA World Cup Qatar 2022 where the Spanish football team took part. They used a catchy phrase that resonates with football fans, encouraging them to visit McDonald's.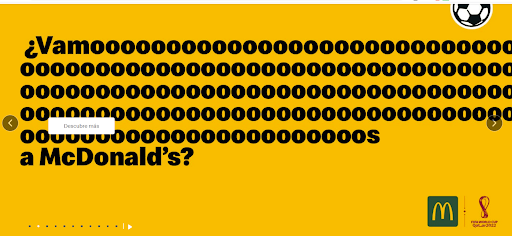 Can you imagine translating the Spanish marketing campaign for the Italian market, whose national football team did not qualify for the World Cup? It would not go down well, and it shows why localization is key to reaching your target audience effectively. 
Main takeaway
McDonald's goes beyond translation and uses localization to better resonate with the local culture of each country. 
Apple
The largest technology company by revenue in the world, Apple have studied in detail each localized version of their website. On the United States' website, the design of the Home Page is minimalist and they focus on the latest iPhone together with two campaigns, one encouraging people to get last-minute gifts for Christmas and another one promoting the Apple Card.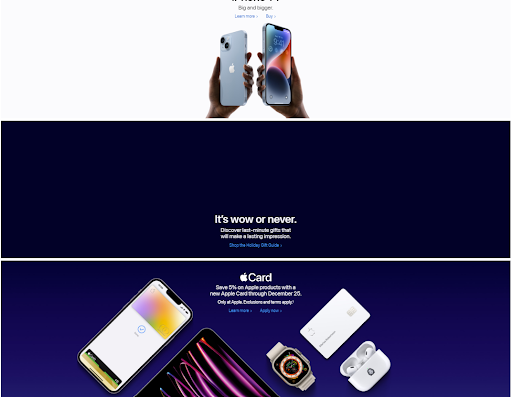 When looking at the localized version of the website in Saudi Arabia, the latest iPhone is also featured on the Home Page but there are some changes to include other high-end products that match the demand for luxury brands in this region. 
Unlike the US website which includes a promotion to save 5% when using your Apple Card, there aren't any references to prices or discounts on the Arabic country's website, contributing to the overall feeling of exclusivity.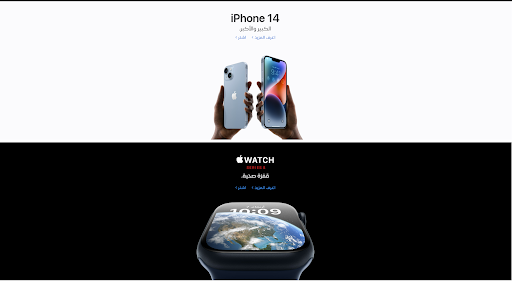 Main takeaway
Apple pays attention to the demographics and purchasing power of each country to adapt their offer and campaigns with specific products and promotions. 
De'Longhi 
De'Longhi is a leading brand in home appliances including coffee makers, kettles and toasters. Their products are sold all around the world, so it's no surprise that De'Longhi's website is available in more than 40 different languages and dialects. 
Having a truly global site that covers 40 + different countries and languages requires the right strategy when it comes to selecting the URL structure. They opted for subdirectories such as https://www.delonghi.com/it-it. This URL structure has the advantage of having an easy set-up and low maintenance since they use the same host.
Users can choose their preferred languages using a single window available at the bottom of the Home Page, thus avoiding visitors having to figure out how to select their preferred language.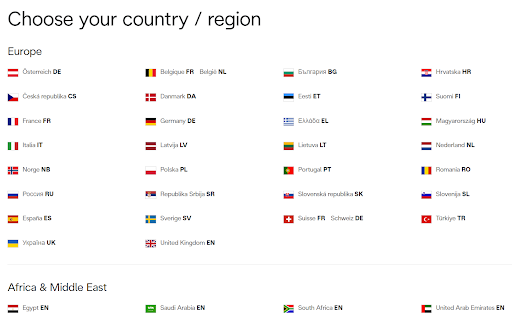 The website is a good example of both a multi-regional and a multilingual website. The site has different versions for the USA and for Canada, and the content is available in both French and English in Canada. This approach really helps to make sure all potential customers in a country feel engaged, regardless of their language. 

Main takeaway
De'Longhi has an effective way for users to select their preferred language, offers multi-regional and multilingual websites and uses subdirectories to manage the different versions. 
Wix
Wix is a cloud-based website builder that includes web hosting, drag-and-drop tools and ready-made templates to help you build your website without having specialist skills or hiring a web developer.
When it comes to their multilingual website, the overall design is the same for all languages. Nevertheless, they have taken care to translate all the different elements of the website, including graphics and pictures, to offer the best possible user experience.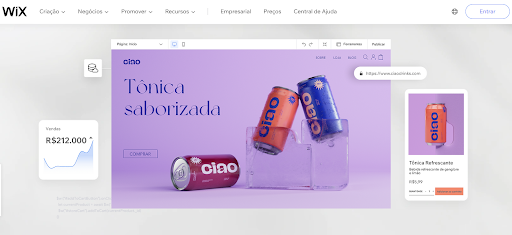 All the features such as dashboards, the website builder and their automation tools have been translated into more than 20 languages to make them accessible to all users. 

When it comes to their website templates, they go beyond translation, offering website templates that are fully localized and some others that are unique in each language.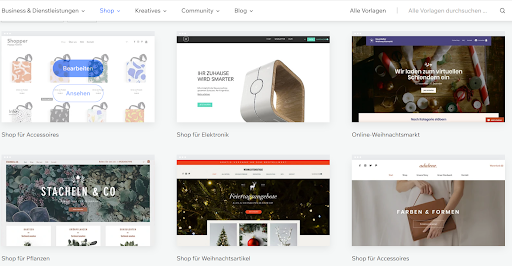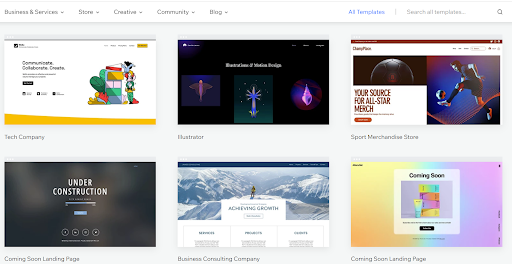 Main takeaway
Wix offers a fully localized solution with all the features available in different languages and provides unique website templates in each language. 
Ready to create a multilingual website?
Translating a website goes beyond translating text (and images). You need to consider the cultural differences of each country in order to adapt your content and offering according to your potential customers. It is also important to pay attention to more technical elements, such as language selection options and the desired URL structure. 
If these multilingual website examples have inspired you to create your own multilingual website, Ampere Translation can help get you started. Get in touch with us and we'd be happy to guide you through every step of your website translation journey.