How to Translate Your E-commerce Website [Guide 2023]
The growth of e-commerce worldwide represents a change in how people shop. While China, the U.S. and the UK continue to lead the global e-commerce market, many other countries in Southeast Asia and Latin America are seeing an important increase in online sales. And it is expected that online shopping will continue to grow in countries such as Argentina and South Korea, where online shopping is already popular. 
For online retailers, this means that there are increasing opportunities in new markets. It also means that there is a need to communicate in different languages, so having a multilingual e-commerce site is key to appealing to your international customers, which is why the most important e-commerce websites are multilingual. 
If you don't know how to translate your e-commerce website, don't worry, you're in the right place. In this article, we're going to talk about how to approach the translation of your e-commerce website and the different options available.  
Why do I need a multilingual website?
First of all, why should you translate your e-commerce website? The main reason to translate your website is to enable you to reach a larger audience in new countries, as well as in countries where different languages are widely spoken – for example, 43 million people speak Spanish as their first language in the United States. 
Translating your e-commerce website has many additional benefits, including: 
A multilingual website offers a better user experience

because you can communicate effectively with your international audience. 

Brands are able to

build trust with potential customers

by showing that they are willing to go the extra mile to meet their needs. 

Many online shoppers start their shopping journey on local search engines such as

https://www.google.de/

or

https://www.google.com.mx/

.

Translating your website means your e-commerce site can rank on local search engines

. 
Reaching a larger audience, offering a better user experience, building trust with your customers and increasing your online visibility all mean more sales, which is the bottom line. 
So, what is the first step to translating your website? 
Website translation plugins
There are many plugins available to translate your e-commerce website that make it as easy as 1, 2, 3. They are excellent platforms to work with a translation agency because it eliminates the need to download the source text and then upload the translated text. 
Here are some of the most popular plugins:  
Weglot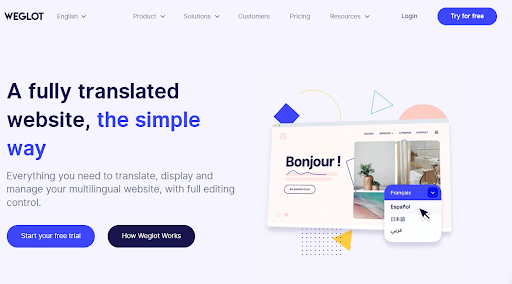 Weglot is an online solution compatible with all Content Management Systems (Shopify, Magento, BigCommerce, Wix, WordPress…). 
It has the option to translate your content using machine translation providers such as DeepL and Google Translate. And if you want to make sure there are no mistakes, you can edit the machine translations from the post-editing tool. 
One of the key features of Weglot is that it takes care of the most important SEO aspects, automatically creating hreflang tags and subdirectories or subdomains when translating your site. 
GTranslate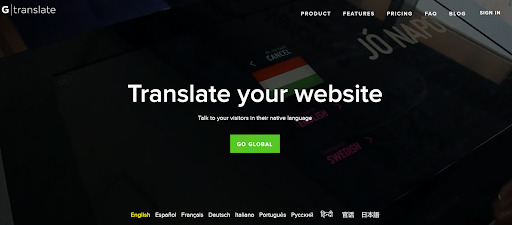 GTranslate can translate any HTML website, it is easy to use and supports almost all the major languages worldwide. 
It has an editing tool that simplifies the translation workflow, allowing your translators to work directly on the website. You can also translate your website automatically, but it is worth mentioning that, unlike machine translation tools from language service providers that can be trained for a specific industry and client, this technology allows very little customization. 
GTranslate also offers great flexibility regarding the domain types that you can use. It supports the creation of subdirectories, subdomains and country-specific websites, which can be very useful as it allows you to use the type of domain that best fits your multilingual SEO strategy. 
WPML (WordPress Multilingual Plugin)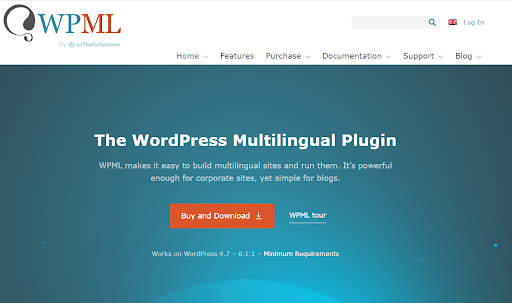 WPML is a user-friendly platform that works with many WordPress products and themes. It is also one of the most popular translation plugins for WooCommerce because you can easily translate every element of your website. 
One of the strengths of WPML is that you can not only translate and edit your translations directly on your website but also change images, page templates, menus and more, so you are not restricted to just translating the text. This makes it an effective tool for your e-commerce localization strategy. 
It supports 40 languages and also offers automatic translation that you can later check from their editing tool. 
Not sure which translation plugin is best for you? The team at Ampere Translation will be happy to help you. Get in touch! 
What services are available to translate your e-commerce website? 
There are different options to translate your e-commerce website depending on your budget and specific needs. 
Machine Translation (automated translation)
Machine Translation (MT) is a technology that translates a text into a new language. It is faster and cheaper than human translation, but the downside is that it is not always accurate, in particular when it comes to idiomatic expressions and technical language. 
Find out more about machine translation and whether you should use this technology to translate your e-commerce website. 
Machine translation post-editing (MTPE)
MTPE is the process whereby you use machine translation technology to generate a translation that is then edited by a human translator to ensure it is accurate, with no mistakes. 
There are costs associated with human translators post-editing the translation, but they are still low because the language specialists use the machine-translated version as a "draft" that they can polish rather than starting from scratch. 
Human Translation
Human translators can offer the highest quality when it comes to translating and localizing your e-commerce website. They are able to understand and adapt the registers depending on your audience and use natural sounding expressions to connect with your customers. 
If quality is what your business stands for, then human translation —perhaps combined with machine translation — is your best choice. Get in touch with our team and we'll find the solution that best suits your needs. 
Technical considerations
After choosing your plugin and the type of translation service that you want, there are a few technical considerations that you need to get right to ensure your international customers can see your products. Let's have a look at them. 
URL structure 
The three most common options when deciding the structure of your multilingual e-commerce are: 
Country-Code Top-level Domain (ccTLD) 
www.example.es 
Subdomain 
es.example.com 
Subdirectory 
www.example.com/es/
There are pros and cons for each method when it comes to your multilingual SEO strategy, but subdomains and subdirectories are two of the most popular implementations on e-commerce websites. 
Hreflang tags
A hreflang tag is an HTML attribute that tells search engines like Google the language and geographical targeting of a webpage. 
What does a hreflang tag look like? They follow this syntax:
<link rel="alternate" hreflang="es-mx" href="https://www.example.com/es-mx/" />
If you have a page translated into different languages, you can use the hreflang tag to tell search engines about these language variations to help them serve the correct version of your website to your users.
Hreflang tags can be implemented using different methods or using a translation plugin such as Weglot, that automatically creates these tags for you. 
On page SEO
An effective multilingual SEO strategy takes into account what people are searching for in different languages. This means that translating your keywords from English into another language may not be the best option for your on-page SEO. 
By doing keyword research you will be able to implement the keywords that your customers use in your translation, boosting the rankings of your e-commerce website on search engines.  
Would you like to add a new language to your website? Get in touch with us to guide you through every step of your e-commerce website translation journey.