The complete guide to e-commerce localization (2022)
Whether you're just beginning to consider the potential of international markets for your e-commerce business or you're looking to refine how you approach overseas customers – now is a great time to consider localization as a key to growth. No matter where your customers are located.
In this article, we'll dive into what e-commerce localization is, why your business needs it, and the steps to follow to knock it out of the park.
What is e-commerce localization?
If you've ever landed on a multilingual e-commerce site that feels a bit off, the chances are you were staring down the barrel of a case of poor localization. Odd-sounding slogans and the distinct whiff of autotranslated content means you probably didn't stay long.
Localization lassoes all the elements of your customer experience – your product listings, hashtags, blogs, prices, campaigns – and recalibrates them for your target markets.
Awesome localization represents a not-insignificant commitment to connecting with your customers in overseas markets and delivering a native brand and shopping experience. It's really an ongoing commitment to placing customers at the centre of what you do.
Seize the moment – transformational levels of digitization and new habits embedded by the pandemic have seen online sales soar. Online shopping is only going to grow.
What is an example of great localization?
With NASDAQ suggesting that 95% of shopping will be done online by 2040, big brands know better than to look the other way.
The global fashion platform ASOS is THE localization cover story, with 60% of its growth attributable to localization. Focusing on the needs of their customers in individual markets – particularly in terms of checkout, shipping and returns – ASOS actively tapped into localization as a growth strategy.
Not only is its entire website translated into seven different languages but it offers ten different payment methods in 19 currencies.
Souce: https://www.asos.com/es/atencion-al-cliente/devoluciones-reembolsos/
ASOS rises up to meet the lived experience of their customers. For example, the FAQ section on its Spanish site features information on returning items from the Canary Islands. It is this in depth understanding and consideration for customers that connects with an audience.
Coca-Cola is also sensitive to the power of localization, fostering relationships in a hyper-personal way – a classic example is the mega-successful Share a Coke campaign which is customized for each market.
Coca-Cola has also modified their slogan (and sometimes even their name) for different markets.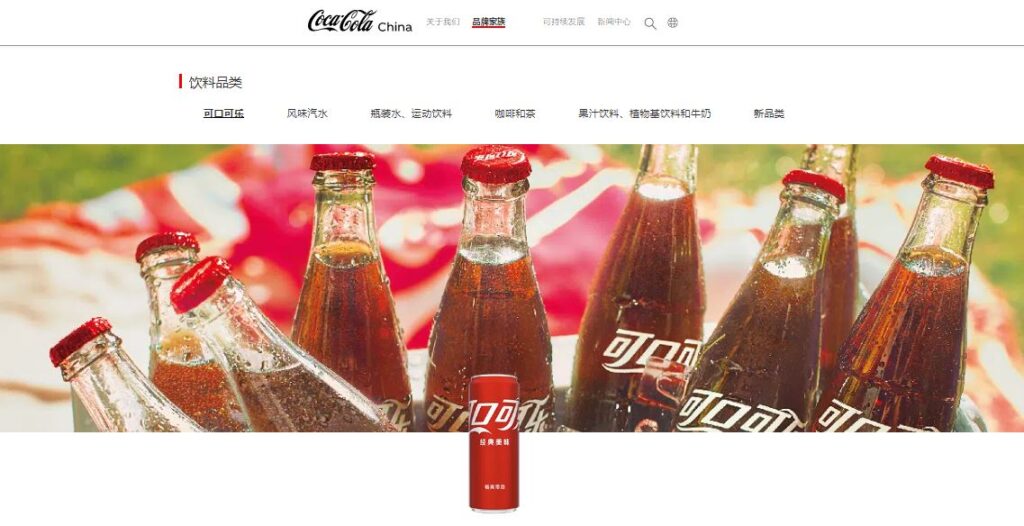 7 key aspects to localize
An often daunting, multi-faceted process, here are seven localizable aspects to begin your journey:
1. Product information
Product localization goes beyond simple translation of product information. You need to update your product content to reflect the values, concerns and pain points of the target market.
For example, localization will find workarounds when handling content in gendered languages like Spanish, French or Italian. These can appear to refer only to men, or only to women – a little creativity can go a long way to deliver an inclusive text.
In Spanish the phrase, "Welcome to our community", can be read in three different ways:
Bienvenido a nuestra comunidad – only addresses men.
Bienvenida a nuestra comunidad – only addresses women.
Te damos la bienvenida a nuestra comunidad – welcomes everyone.
People will not feel welcome after signing up for a newsletter if they are not addressed in an inclusive way.
Harness this through on-the-ground knowledge and market research and you'll be off to a flying start.
2. Your brand story
The challenge of recounting your brand story to resonate with your markets is real– but do it right and you'll find your tribe.
It requires a customer-centric approach and in-depth understanding of target market culture. Often transcreation, (a mixture of translation and copywriting) is key to achieve good results.
Below, Innocent use transcreation and wordplay to convey the quirkiness of the brand on its social media accounts for different markets.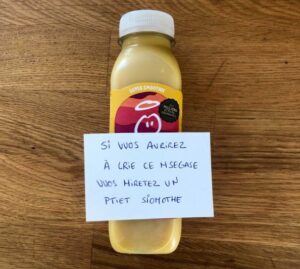 https://www.instagram.com/p/CRmH0_ortNa/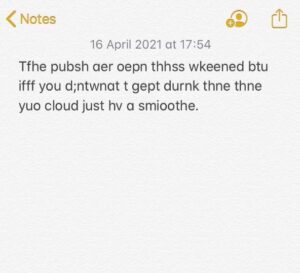 https://www.instagram.com/p/CNu_sjsj9B6/
3. The customer experience
The backbone of high-quality localization. Try to see your website anew, through the eyes of your customers.
Offering products and services in the local currency is essential, as is using the appropriate measurement units for each country – these often differ by market.
And keep an eye on checkout pages – they have the highest risk of abandonment! Payment options should be familiar to your overseas customers.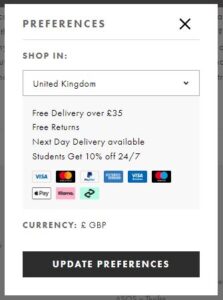 Source: https://www.asos.com/
4. Your website (SEO Translation)
What are your prospects really searching for? It is important not to simply translate your English keywords into different languages and assume that your international customers use the same terms.
You need to carry out keyword research in each market to weave the keywords into your copy. This will not only increase your online visibility, but it will help you sound natural.
5. Social Media
The look and feel of social media need to be localized to maximise positive customer interaction.
Promotions and competitions on social media should dovetail with your customers' calendars. For example, Mother's Day and Father's Day celebrations take place on different dates in different countries. Having access to this knowledge is key to engaging with your international customers at the right time.
You can tap into local holiday revenue streams and deliver a powerful message as regards being in sync with your customers.
6. Customer support
Customer support covers many aspects, and should be accessible in the local language, including:
FAQs
Bot chats
Forms
Reviews
Phone numbers formats
Getting these elements right adds up to a positive native shopping experience.
7. Images
Visual power is paramount in the digital age. Is your brand imagery delivering the desired impact? Checking and localizing images should form an integral part of a localization strategy. Their look, feel and size all need to be reviewed.
For example, you can have the best infographic out there, but if you fail to localize it, your international audience will not engage with it.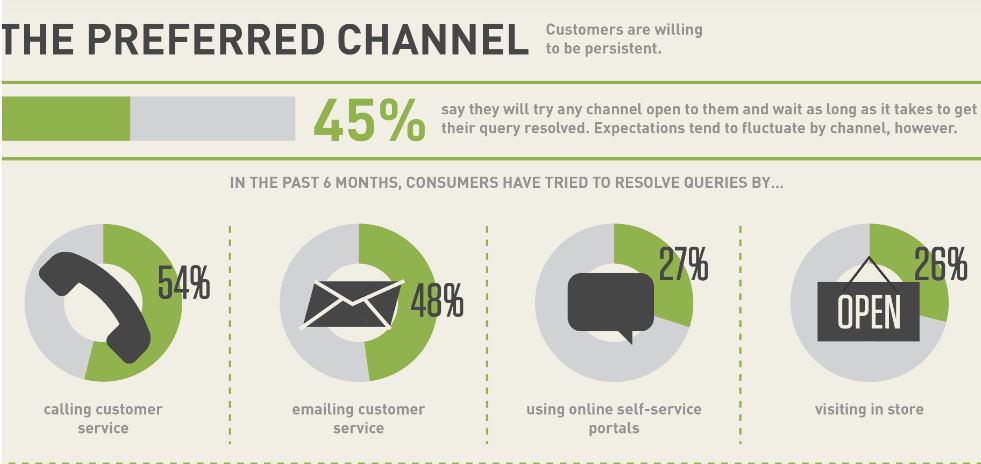 Source: https://www.zendesk.co.uk/blog/bridging-the-gap/#georedirect
Benefits of Localization for your e-commerce store or marketplace
Successful localization delivers indisputable momentum and growth allowing you to:
Build a global brand
Localization lets you go big. You can build a consistent, impactful brand on a global scale by establishing a trust-led presence in target markets.
Hyper-personalize the shopping experience
Connect authentically with your customers using localization. Its associated data harvesting opportunities facilitate iterations and improvements of the shopping experience.
Increase your visibility on domestic search engines
Once you understand the online habits of your customers you can supercharge your rankings and have your website and products sitting pretty on domestic search engines
Ready to start your e-commerce localization journey?
We can support you to develop and implement an effective ongoing localization strategy. We will work with you to:
develop key objectives
identify markets
consider the opportunities of your chosen languages
define the technological requirements for successful localization
Ready to localize your ecommerce site? Contact us  for a free quote.