E-commerce in Spain: your guide to succeeding in the Spanish market
Spain is one of Europe's largest e-commerce markets with a revenue of US$30.34bn in 2022, placing the country ahead of other strong regions such as the Netherlands and the Scandinavian countries. 
If you are considering expanding your e-commerce business to Spain, there isn't a better time than now. But it is important to be aware of the habits and preferences of Spanish online shoppers to overcome the potential challenges of selling products in this country. 
In this article, we will explore the various aspects of e-commerce in Spain, including revenue, products, marketplaces, trust signals, payment methods and delivery.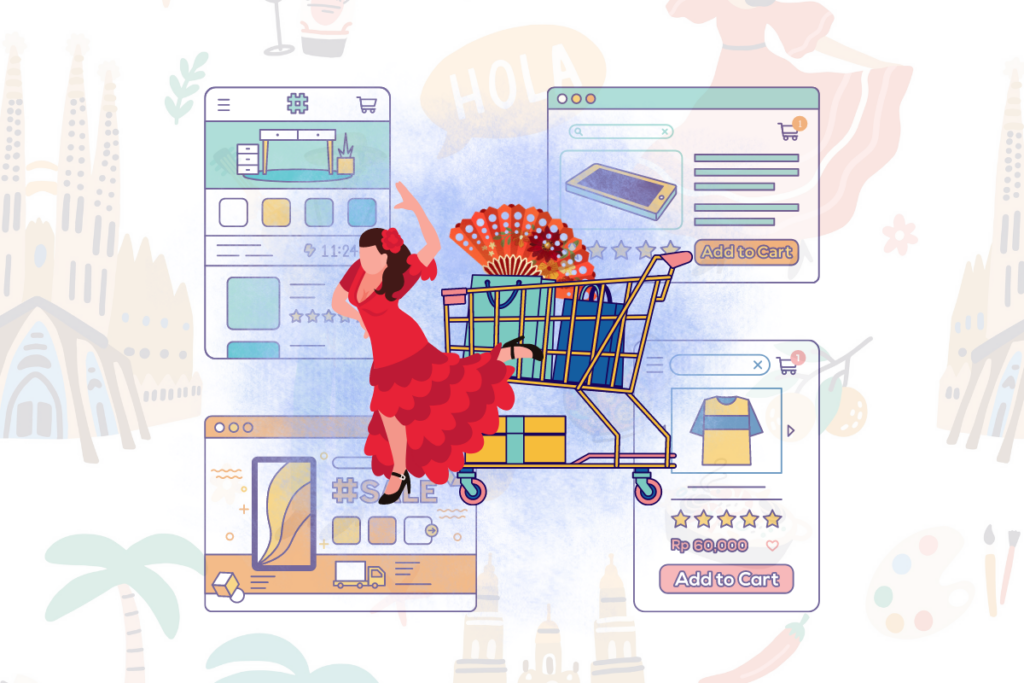 E-commerce revenue in Spain
Spain has become a major player in the e-commerce market, with impressive growth rates in recent years. Revenue is expected to show an annual growth rate of 10.63%, resulting in a projected market volume of US$56.36bn by 2027.
This impressive growth can be attributed to a number of factors. Following the COVID-19 pandemic, more than 70% of people reported that they have changed their habits by buying online those products or services they were previously buying in a physical store. 
A greater diversity of products and brands, better prices, opinions and the convenience of orders are some of the reasons behind this change. In addition, the rise of mobile devices and the widespread availability of high-speed internet have made it easier than ever for people to shop online from anywhere, at any time.
Top product categories for online purchases in Spain
Although Fashion has been traditionally the largest product category in the Spanish e-commerce market, Electronics was the largest product category with US$7.75bn of total revenue in 2022. It was closely followed by Fashion with US$7.72bn, Beauty, Health, Personal and Household care with US$4.13bn, and Toys, Hobby & DIY with US$3.18bn.
Revenue in billions USD of top product categories for online purchases in Spain in 2022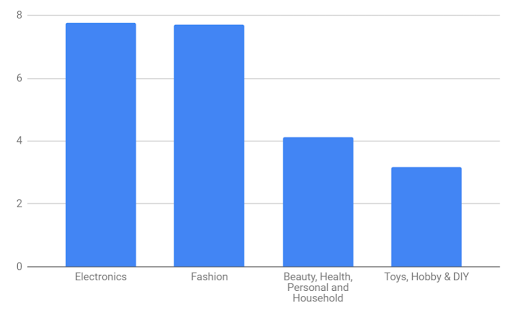 Most popular marketplaces in Spain
Online marketplaces are an essential part of the lives of millions of Spanish consumers. Let's take a closer look at some of the most popular marketplaces in Spain.
Amazon
Amazon is the biggest player in the Spanish eCommerce market, with a total market share of 39% in 2022. Amazon's marketplace is very diverse and online shoppers have a very high expectation to find the product they want and get it at an affordable price. 

El Corte Inglés
El Corte Inglés is a Spanish department store that has strengthened its online presence in recent years and accounted for 5% of the market share in 2022. The company's marketplace offers a wide range of products, including clothing, electronics, and home goods. El Corte Inglés is known for its high-quality products and exceptional customer service.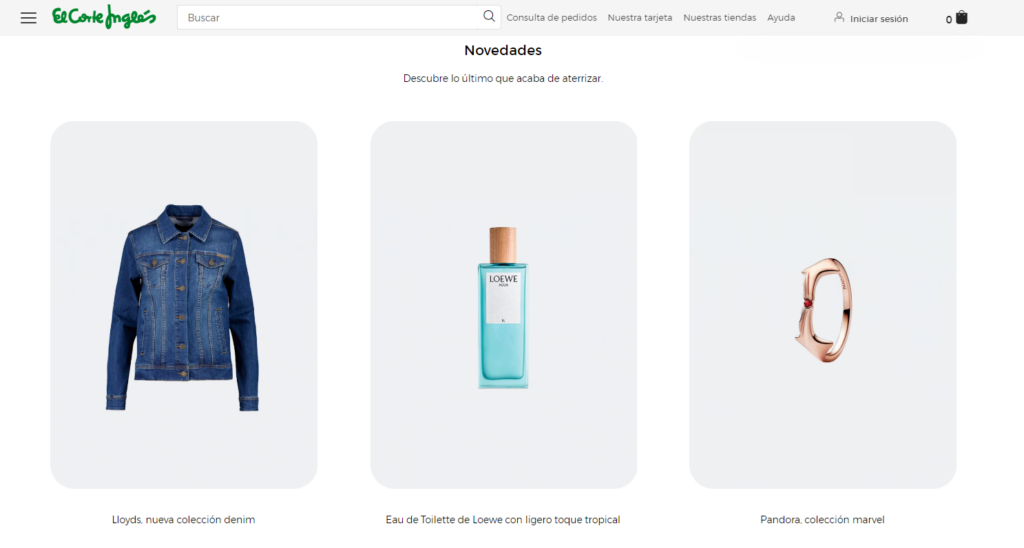 E-commerce trust signals in Spain
Spanish consumers are notoriously cautious when it comes to online shopping, and they want to be sure that the websites they buy from are trustworthy and secure. Safe payments, customer reviews and information in their native language are some of the most important trust signals. 
E-commerce preferred payment methods
One of the most important trust signals for Spanish consumers is the use of secure payment methods. Online shoppers in Spain are more likely to purchase from websites that offer secure payment options such as credit card payments, e-wallets (mainly PayPal), bank transfers and cash on delivery. 
E-commerce preferred payment methods in Spain in 2022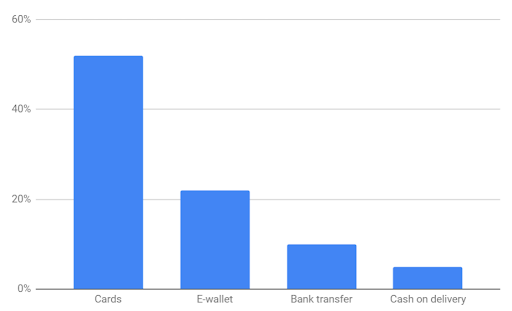 It is worth noting that businesses that offer multiple payment options stand a better chance of capturing a wider audience in Spain. By providing a range of payment methods to suit different preferences and needs, you can make the online shopping experience more accessible and convenient for consumers.
Communication and customer support in Spanish
Spanish people value having information accessible to them in their native language to avoid any issues during their shopping and checkout process. It is no coincidence that the two most popular marketplaces in Spain – Amazon and El Corte Inglés – have their websites available in Spanish and provide an efficient customer support service.
Whether you are planning to translate your e-commerce website or translate your Amazon product listings, your chances of success are always higher if you speak the language of your target audience. 
Reviews 
Reviews, ratings, and testimonials play an essential role in helping Spanish consumers make informed decisions about online purchases. This is why it is vital for online retailers to provide customer reviews when selling their products and services in the Spanish market. 

Positive reviews can enhance a company's reputation, improve customer trust and loyalty, and ultimately drive sales. 
E-commerce delivery and returns
Spanish online shoppers are a bit more patient with delivery than other European online shoppers. Nevertheless, they value free and fast delivery services, so companies that offer free shipping or fast delivery services are more likely to attract and retain customers, while businesses that lack these facilities may lose out. 
Easy returns policies are also essential for Spanish consumers. Free returns to stores and post offices are normally accepted within 14 calendar days of receiving an order, and, in some cases, the return of parcels to close-by collection points is also available. 
Other elements to increase Spanish online buyers' confidence include:
  No hidden costs (free shipping)

  Clear terms and conditions of the returns policy

  Online support (such as online chat)

  SSL encryptions to ensure secure payments 
Seize the moment to enter the e-commerce market in Spain
The e-commerce market in Spain is thriving, with significant growth projected in the coming years. The key to success in this market is to understand Spanish consumer behaviour, preferences, and expectations.
Our team at Ampere Translations is ready to help you develop and implement an effective localization strategy to develop key objectives and consider the opportunities of the Spanish market for your business. Contact us today to discuss your needs.